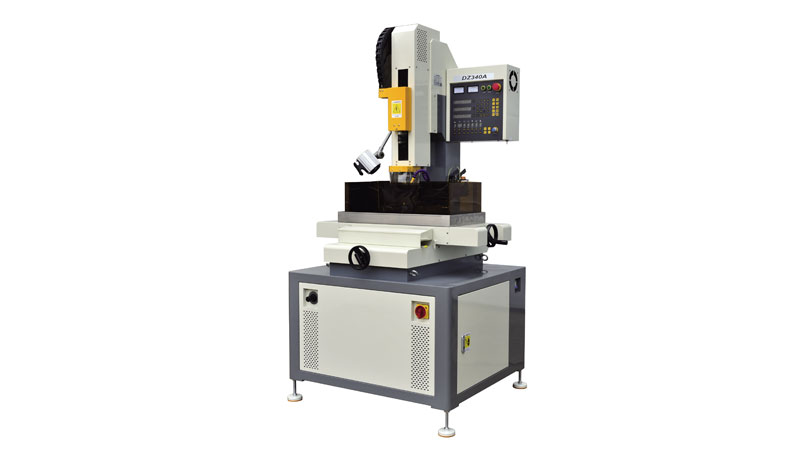 KD-DZ430A, B, C EDM Small Hole Drilling Machine Features
1. The maximum stroke of the Z axis is 380mm, which can hold 500mm long electrodes, and the waste of the electrode tube is minimized to about 100mm. The ultra-low wear circuit design is used to greatly improve the use ratio of the electrode tube.
2. The Z axis adopts a micro-stepping motor to realize fast feed speed, the whole stroke only takes about 10 seconds, greatly reduced the waiting time and improved the efficiency. The W axis, i.e. stroke of machine head, is manual control with fast speed.
3. Patented rotating head: the integrated design of the rotating head and the motor, use tungsten steel wear-resistant plate and multiple waterproof structures. The tapered sleeve is used to connect with the chuck to ensure the concentricity of the chuck rotation.
4. Own developed control system: one-key machining, centering function, fixed end surface function, expert database, digital sampling, adaptive servo tracking, penetration function, flexible machining, high-speed machining, surface protection, spindle automatically goes back to the workpiece surface. It is suitable for the processing of fine holes of electrode copper tubes of Φ0.3 to Φ3.0, the processing of ultra-thick workpieces with a thickness of less than 300mm, and the processing of super-hard and special materials such as tungsten steel, aluminum, and AK80.
KD-DZ430A, B, C EDM Small Hole Drilling Machine Technical Parameters
Item

Technical terms

DZ430C

DZ430B

DZ430A

1

Electrode diameter (mm)

Φ0.3-Φ3.0

Φ0.2-Φ3.0

Φ0.1-Φ3.0

2

Machine head travel (mm)

280

280

280

3

Spindle servo travel (mm)

380

380

380

4

Max. speed of spindle (mm)

1500

1500

1500

5

The rotation speed of the spindle (rpm)

0-200 adjustable

0-200 adjustable

0-200 adjustable

6

Worktable size (mm)

440×320

440×320

440×320

7

X×Y travel(mm)

400×300

400×300

400×300

8

Max. Distance from the guide to worktable(mm)

≥300

≥300

≥300

9

Max. working current (A)

30

30

30

10

Max. input power (KW)

4.0

4.0

4.0

11

Power supply

3 phase 380V/50Hz

3 phase 380V/50Hz

3 phase 380V/50Hz

12

Digital display type

X, Y, Z

X, Y, Z

X, Y, Z

13

Max. working liquid pressure (Mpa)

8

12

12/8

14

Working liquid supply device

Electrical plunger pump

Pneumatic pump

Double pumps

(electrical pump + pneumatic pump)

15

Max. worktable load(kg)

380

380

380

16

The overall dimension of the machine (W×L×H)

1000×1000×2000

1000×1000×2000

1000×1000×2000

17

Machine weight(kg)

700

700

700

18

X, Y, Z configuration

X, Y, Z precise ball screw

X, Y, Z precise ball screw

X, Y, Z precise ball screw

X, Y, Z axis Taiwan made linear guideway

X, Y, Z axis Taiwan made linear guideway

X, Y, Z axis Taiwan made linear guideway

Z, W axis motorized; X, Y axis manual

Z, W axis motorized; X, Y axis manual

Z, W axis motorized; X, Y axis manual
Outline Drawing