CNC EDM Hole Drilling Machine
CNC EDM drill, also known as CNC EDM small hole drilling machine, basically, there are three axis control(X, Y, Z), 4-axis control(X, Y, Z and W), 5-axis control(X, Y, Z, W and C), 6-axis control, (Y, Z, W, B, C) and even more. Z axis spindle servo stroke: W axis is the stroke of machine head; C axis rotation in horizontal direction; B is swing in vertical direction. Equipped with automatic electrode or guide changer, CNC EDM drilling machine can do automatic machining.
CNC EDM Small Hole Drilling Machine Highlights
Can drill deep hole with diameters 0.1mm ~ 3mm for C type, 0.2mm ~ 3mm for B type, 0.3mm ~ 3mm for A type

The speed of the drilling hole is 30mm~60mm depth per minute (it is different for different materials), it is a kind of fast hole drilling EDM CNC tech.

Can drill wire-cut starting hole, filter hole, jet hole, gas hole, group holes and hole of super depth, etc.

Can drill small holes on the various conductive materials, even semiconductor material, especially stainless steel, chilled steel, copper, aluminum, and hard alloy, etc.

Can easily erode the drill and screw tap etc. which is broken in the workpiece and not destroy the screw thread of the holes.

The working water can be normal water or saponification fluid and no pollution is brought.

The operation is easy and convenient.

X, Y, Z three axes digital display with scale.

X, Y, Z three axes control.
CNC EDM Small Hole Drilling Machine Packing List
| | | | |
| --- | --- | --- | --- |
| No. | Item name | Specification | Quantify |
| 1 | Inner hexagon spanner | M3 M4 M5 M6 M8 | 1 piece each |
| 2 | Double-head screwdriver | | 1 piece |
| 3 | Shear for electrode | | 1 piece |
| 4 | Guide | Ф0.5×12×42mm | 1 piece |
| 5 | Guide | Φ1.0×12×42mm | 1 piece |
| 6 | Electrode | Φ0.5×500mm | 100 pieces |
| 7 | Electrode | Φ1.0×500mm | 100 pieces |
| 8 | Electrode seal |  Ф0-1.0mm | 20 pieces |
| 9 | Chuck | 4H | 1 set |
| 10 | Balance bar mount | | 1 set |
| 11 | Tap connector | | 1 piece |
| 12 | Foot block | M16 | 4 pieces |
| 13 | Water tank | | 1 piece |
| 14 | Water barrel | | 1 piece |
| 15 | Water cover | | 1 set |
| 16 | Manual | | 1 set |
| 17 | Packing list | | 1 set |
| 18 | Recycling tank(optional) | 110L | 1 set |
| 19 | Flushing seat(optional) | | 1 set |
Function Pic CNC EDM Hole Drilling Machine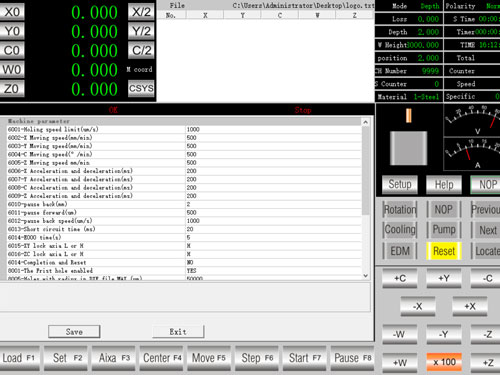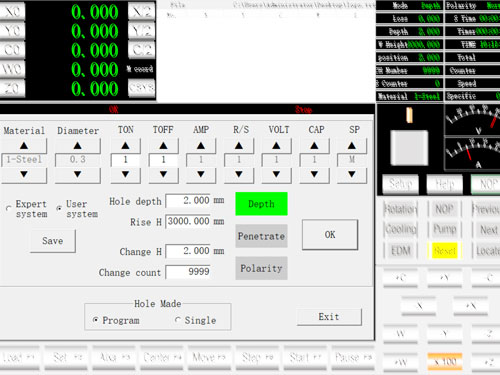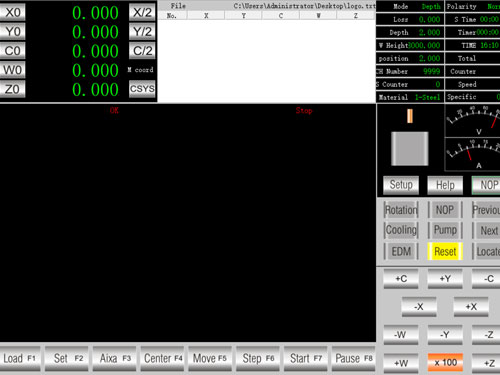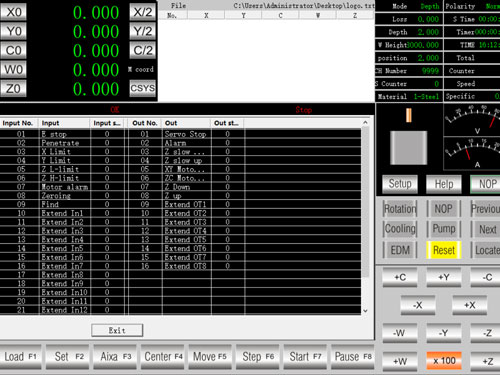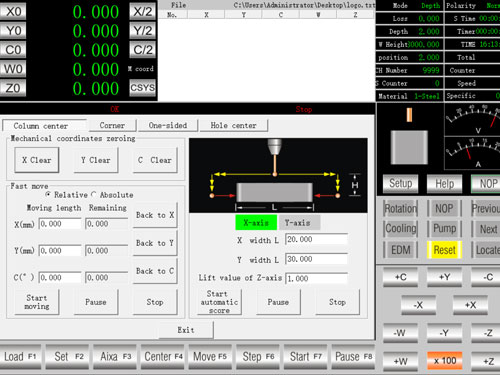 Consumable Parts CNC EDM Hole Drilling Machine