CNC EDM sinker B45 produced by Beijing Institute of Electro-machining (BIEM)/Beijing Dimon CNC Technology Co., Ltd. (DMNC-EDM) was awarded as "superior qualified product".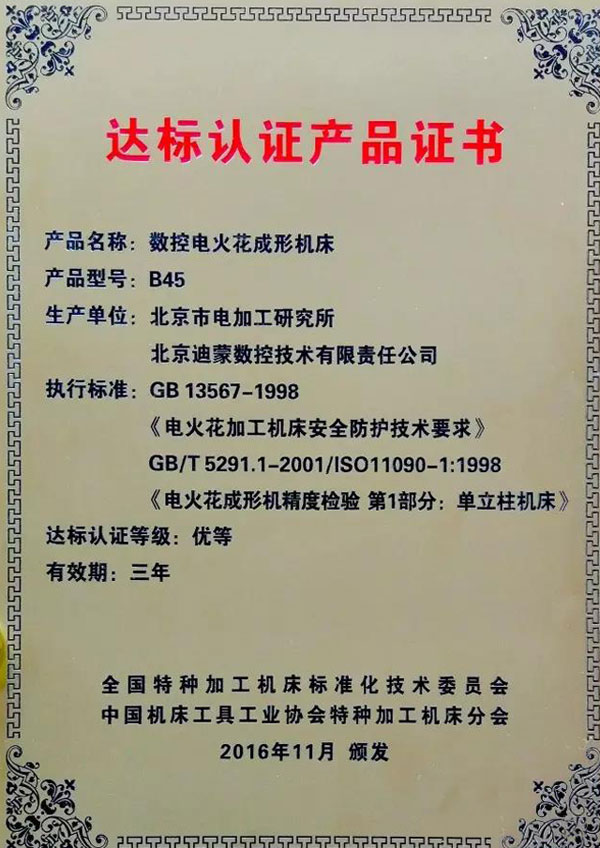 On 25th November 2016, the annual conference of the non-traditional association of the China Machine Tool Industry Association was held in She County, Anhui province. The conference issued the "standard-compliant products" and "standard-qualified certification" approved by the 2016 China Machine Tool and Tool Industry Association. CNC EDM machines A30, B30E, A50, AA50, and N850 from DMNC/BIEM were rated as "Excellent Qualified Products", the B45 high precision CNC EDM machine was awarded again.
The selection of "qualified products" is an industrial product certification activity organized by the non-traditional machining based on the target of the Ministry of Industry and Information Technology, "the quality level of key products of enterprises above designated size meets national and industry standards." It is the most stringent industry in China. The inspection aims to promote the implementation of national and industry standards, improve product quality, and build up famous brands. The accreditation was carried out by the Quality Supervision and Inspection Center of Electromechanical Machine Tool Products of the Machinery Industry. The B45 CNC die sinker EDM has undergone strict testing for three days. Compared with the two national standards GB13567-1998 and GB / T5291.1-2001, it has been inspected for Class A items 41, all meet national standards, and the reserve of all precision items is 40% to 98%, which exceeds the 30% reserve requirement, and has been awarded "Excellent Products for Electrical Discharging Machining Machine Standard Certification".
It is not accidental that the products of BIEM and its affiliated DMNC have won market and recognition among customers. It is precise because of the extreme purist of the performance and quality of EDM machines. We believe that, with the promotion of the Made in China 2025 action plan, BIEM, and its affiliated DMNC will continue to maintain the high quality and high stability of EDM machine tool products for the aerospace, automotive, energy, and power equipment, micro-electromechanical Systems, biomedical, precision molds and other high-end manufacturing areas provide better services.