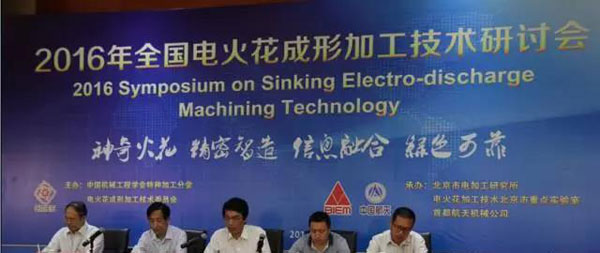 From 21st to 23rd August 2016, the 2016 National Seminar of EDM Machining Technology was grandly held in Beijing. The conference was hosted by a non-traditional machining association, jointly undertaken by the Beijing Institute of Electro-machining(BIEM), Beijing Key Laboratory of EDM Machining Technology of BIEM and Capital Aerospace Machinery Company. Xu Junliang, secretary-general of the non-traditional machining association of the Chinese Mechanical Engineering Society, Shao Jinwen, deputy director of the Beijing Academy of Science and Technology, and Bao Mao, director of the Beijing Institute of Electro-machining, attended the conference and delivered speeches.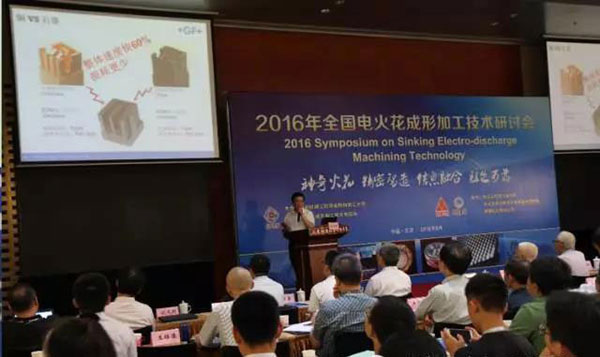 Academician Xu Xingchu of the Chinese Academy of Sciences, director Huang Jinsong of the Scientific Research Division of the Beijing Academy of Science and Technology, Zhao Hongyu, secretary of the Beijing Institute of Electro-machining, and Liu Jinchun, Yu Jiashan, Shen Hong, Jiang Hengshun, and other seniors in the field of electrical discharging machining also attended the meeting. 125 representatives from domestic universities, research institutes, manufacturing enterprises, end-users and foreign manufacturers' representatives attended the meeting. Zhai Lijun, Director of the EDM Technology Committee of the Non-traditional machining association of the Chinese Mechanical Engineering Society, and Shan Changzhou, Lu Zhiliang, and Zhu Honggang, the Deputy Director of the EDM Machines Technology Committee.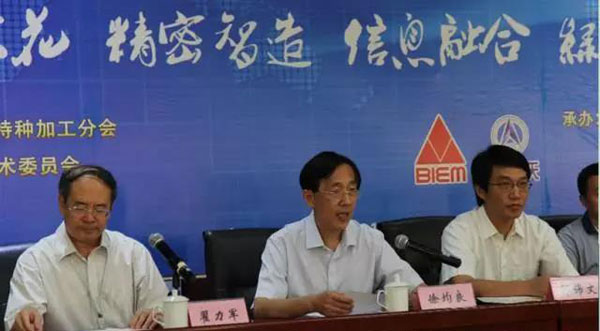 In his speech, Secretary-General Xu Junliang expressed warm congratulations on the convening of the "National EDM Forming Technology Symposium" on behalf of the Special Processing Branch of the Chinese Mechanical Engineering Society and fully affirmed the work of the National EDM Forming Technology Committee. The biannual National Workshop on EDM Technology has now become a brand event in the special processing field in China, attracting many industry participants, and has become an important platform for technology exchange in the field of EDM machines in China, which promotes technological progress. Played a positive role. Special processing technology has solved a large number of processing problems that traditional processing cannot solve in high-end manufacturing fields such as aviation, aerospace, energy, automotive, microelectronics, etc., and has played an irreplaceable role. It will achieve higher levels of development in the new technological revolution and wider applications. The meeting focused on the needs of aerospace, military energy and other fields, exchanged and discussed new developments and new trends of CNC die sinker EDM technology, and the "13th Five-Year Plan" national science and technology innovation plan, "Science and technology innovation must take supporting major national needs as a strategic task "The requirements are highly consistent. I believe that with the joint efforts of all the participants, this seminar will achieve positive results and make new contributions to the development of China's electrical processing and special processing!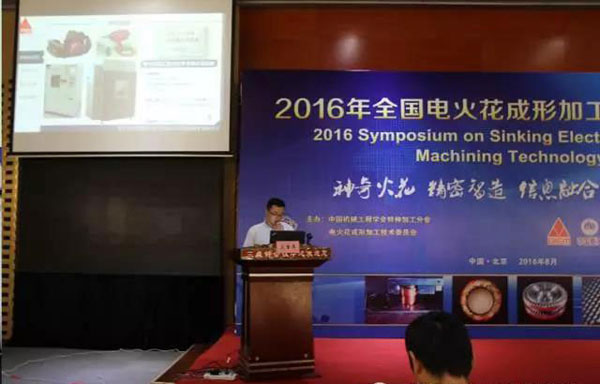 In his speech, Vice President Shao Jinwen pointed out that China's machinery industry currently faces excellent development opportunities and faces severe challenges. The central government attaches great importance to scientific and technological innovation, while China's scientific and technological foundation is still weak and its original capacity is insufficient, and core technologies in key areas are still subject to people. He appealed to the participants: In this period of important strategic opportunities for science and technology innovation, we must have strong confidence in innovation, dare to be the world's first ambition, and focus on major national science and technology projects that are relevant to the country's overall and long-term. The industry is moving towards the mid-to-high end, adding new momentum for development, expanding new development space, and improving the core leading role in developing quality and efficiency. It will strengthen the integration of new-generation information technology, intelligent manufacturing, energy, and other fields to promote disruptive technological innovation and accelerate Lead the industrial transformation, build an industrial technology system with international competitiveness, create a new situation in the world of equipment China, the world of China equipment, and contribute to China's transition from a large manufacturing country to a strong manufacturing country!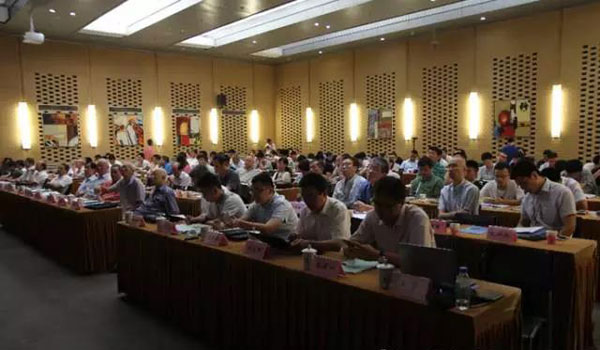 Later, Bao Mao, director of Beijing Institute of Electro-machining, and Zhang Kun, researcher of Capital Aerospace Machinery Company, also delivered congratulatory speeches.
The theme of this seminar is "Magic Sparks, Precision and Intelligent Manufacturing, Information Fusion, Green and Reliable", and discuss the new applications of EDM processing technology around the technical requirements of national key areas; green and intelligent manufacturing new technologies; and the Internet of Things, The integration of big data, cloud computing, and new trends and developments in die-sinking EDM processing technology at home and abroad. Fourteen representatives from universities, research institutes, and enterprises responded to this topic by discussing the status quo and challenges of EDM technology, the overall solution of sinking EDM machining efficiency and accuracy, and Researches on the design of the monitoring and maintenance system of CNC EDM machines were made special reports, and wonderful interactive exchanges were held with the participants. A total of 33 papers were collected at the conference, and the "2016 National EDM Forming Technology Symposium Exchange Collection" was published.