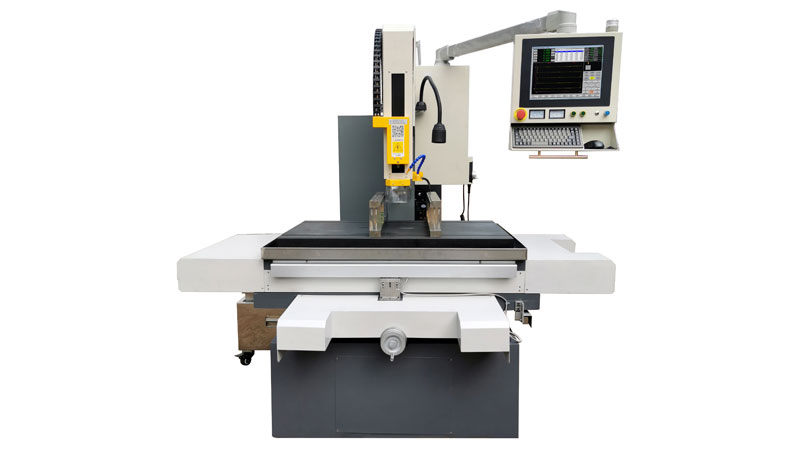 Features
1. The system adopts a touch screen industrial control computer and Win7 operating system. It runs fast and can process massive data at the same time.
2. With rich data interface, the system can directly import data and edit it through the U disk, network port, and wireless to produce the most reasonable processing route.
3. Support X.Y.Z three-axis CNC machining, suitable for plane and arc hole drilling. (☆Optional) It can be installed to realize W.C five-axis CNC processing, suitable for uneven workpieces with steps, and a rotary table for processing round workpieces and inclined holes.
4. Comes with an expert process library, just enter the workpiece material, electrode diameter, processing requirements and other conditions, the processing parameters are automatically retrieved, and the hole processing parameters can also be manually adjusted.
5. Equipped with automatic centering, automatic edge search, and automatic workpiece surface search.
6. Precise depth control, automatic detection of electrode loss, and electrode loss can also be set manually.
7. Automatic detection of penetration, depth coordinate can also be set manually.
8. The XY axis has a closed-loop function, which can achieve high-precision positioning.
9. XYZ three-axis precision ball screw, Taiwan silver linear guide.
10. Hand-in-one integrated processing method, the X and Y axes are automatically locked after positioning and can be unlocked manually.
11. ☆ In order to ensure the quality of the aperture, the electrode tubes with specifications below 0.3mm are selected for manual processing.
Equipment Working Conditions
1. Power supply: 380V±10%, 50HZ±10%
2. Ambient temperature: 2℃-40℃. The recommended room temperature is 20℃±1℃
3. Relative humidity: ≦75% (no strong alkali, no strong electromagnetic field, no moisture)
4. Machine noise level: ≤80db
5. The machine tool can work stably under the above working environment for a long time.
Technical Parameters
Item

Technical terms

DC1080C

DC1080B

DC1080A

1

Electrode diameter (mm)

Φ0.3-Φ3.0

Φ0.2-Φ3.0

Φ0.1-Φ3.0

2

Machine head travel (mm)

280

280

280

3

Spindle servo travel (mm)

380

380

380

4

Max. speed of spindle (mm/min)

1500

1500

1500

5

Rotation speed of the spindle (rpm)

0-200 adjustable

0-200 adjustable

0-200 adjustable

6

Worktable size (mm)

1350×980

1350×980

1350×980

7

X×Y travel(mm)

1000×800

1000×800

1000×800

8

Power supply

3 phase 380V/50Hz

3 phase 380V/50Hz

3 phase 380V/50Hz

9

Digital display type

X, Y, Z

X, Y, Z

X, Y, Z

10

Max. working liquid pressure (Mpa)

8

12

12

11

Working liquid supply device

Electrical plunger pump




Pneumatic pump

Double pumps

(electrical pump + pneumatic pump)

12

Max. worktable load(kg)

1500

1500

1500

13

Overall dimension of machine(W×L×H)

2600×2400×2200

2600×2400×2200

2600×2400×2200

14

Machine weight(kg)

3500

3500

3500

15

X, Y, Z configuration

X, Y, high precision ball screw

Z precise ball screw

X, Y, high precision ball screw

Z precise ball screw

X, Y, high precision ball screw

Z precise ball screw

X, Y, Z axis Taiwan HIWIN linear guideway

X, Y, Z axis Taiwan HIWIN linear guideway

X, Y, Z axis Taiwan HIWIN linear guideway

W axis motorized

X, Y, Z axis NC control

W axis motorized

X, Y, Z axis NC control

W axis motorized

X, Y, Z axis NC control

16

Positioning accuracy

X.Y≤0.01mm/300mm

X.Y≤0.01mm/300mm

X.Y≤0.01mm/300mm

17

Feed ratio of X, Y axis

1000mm/min

1000mm/min

1000mm/min
Specification of the Control System
| | | |
| --- | --- | --- |
| 1 | Control axis | X, Y, Z three axes |
| 2 | Drilling axis | Z axis |
| 3 | Max machining current | 30A |
| 4 | Max machining speed | 30-60mm/min |
| 5 | Max input power | 4.5Kw |
| 6 | Min. wear of electrode | ≤0.8% |
| 7 | Digital display axes | X, Y, Z three axes |
Recycling Tank (Optional)
| | | |
| --- | --- | --- |
| 1 | Capacity | 110L |
| 2 | Weight | 45kg |
| 3 | Outer dimension | 920×460×750mm |
| 4 | Material | Stainless steel |
| 5 | Filtering | Changeable filter |
Outline Drawing